Gama AquaArt de la Tetra este preferata de toți fanii acvaristicii. Panoul său frontal în formă de semilună oferă o priveliște unică asupra fascinantelor lumini subacvatice, astfel încât poți observa de aproape peștii, creveții și plante. Seturile complete, modelele de 3o sau 60 de litri, includ tot echipamentul de care ai nevoie, cum este filtrul EasyCrystal, un bec LED, poster decorativ, hrană pentru pești și produse speciale pentru îngrijire.
Acvariile stilizate și seturile complete transformă acvaristica într-o reală plăcere pentru cei mici
Știai că AquaArt Explorer Line a fost votată Produsul NOU de TOP din anul 2013/14 în categoria "Aquariums/terrariums/ponds", de către cititorii revistei PET? În septembrie 2014, vizitatorii târgului Garten & Zooevent au votat pozitiv pentru acest acvariu.
De ce este atât de apreciat? Care este suma reușitelor sale? Acvariile noastre combină design-ul atractiv cu tehnologia ultra modernă și sustenabilă, cu funcționalitatea crescută și utilizarea prietenoasă. În acest fel, este lesne să te orientezi către acvaristică, acest hobby unic și deosebit. Cu AquaArt Explorer Line este mai ușor să amenajezi acvariul și să-l transformi într-o piesă principală de decor, poziționată fie in living, fie in camera copilului sau biroul de lucru.
Click here to view our product selection
Tetra AquaArt LED – valabil și pe alb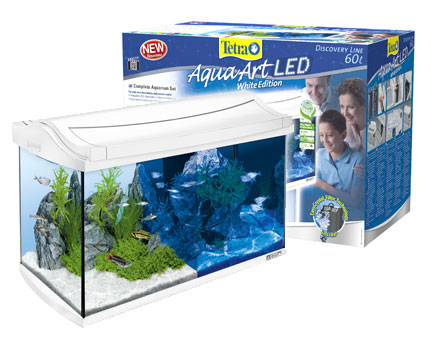 Other highlights of our product range include the 20, 30 and 60-litre versions of our Tetra AquaArt LED aquariums. As well as being convenient to care for, these aquariums also boast innovative equipment: the powerful, long-life LED light shows off fish and plants in the best possible light at any time during the day or night. In day mode, the LED light with a built-in switch for day/nightlight mode emits a daylight white light to support plant growth, while at night, it casts a soft-blue light over the aquarium. The integrated LEDs require minimal energy to guarantee optimum results and offer a service life of 50,000 hours. This makes them a highly economical and sustainable lighting solution as, unlike traditional fluorescent lamps, there is no need to replace the bulb every year.
AquaArt Aquarium complete sets
Our complete sets contain all the accessories you need, e.g. the complementary filter and air pump technology for the shrimp tank or the handy Tetra EasyCrystal Filter for the 30 and 60-litre tanks. The 60-litre version also comes with the Tetra HT50 Heater. Feed and care product samples are supplied with all models.
Feeding and filtering made easy
Functionality and ease of use are two of the main priorities here, as with all Tetra AquaArt aquariums. The lid has several large openings, which make feeding simple and allow easy access to the equipment. Our Tetra EasyCrystal Filter produces crystal-clear, healthy water and is incredibly easy to clean. You simply need to replace the filter cartridge roughly every four weeks; there's no need to rinse out the filter medium or even get your hands wet! The premium-quality tanks made from distortion-free float glass with bevelled edges are TÜV/GS tested, CE certified and come with a three-year warranty that covers the aquarium's bonding, cover and lamp.
Click here to view our product selection