Decorate your home with an aquarium
Home aquariums are real eye-catchers and look particularly good in living rooms. More than just a habitat for fish and other underwater creatures, an attractive aquarium tailored to the look of your living room will enhance your interiors and turn visitors' heads. They also exude a feeling of calm, creating an inviting, cosy atmosphere. There are many ways to design an aquarium and make it a beloved, high-quality and modern addition to your home.
Benefits of living room aquariums
As mentioned above, there are many ways to set up an aquarium and incorporate it into your home. Let your creativity run free – whether you focus on the shape of the aquarium, the plants, the lighting, the rocks or the sculptures, this is your chance to express your personal style. Setting up an aquarium can be a truly joyful experience.
Aquariums are a fascinating sight, and will help improve your concentration and encourage you to relax after a stressful day. They also have a calming effect. A well-maintained, functioning aquarium will brighten up any room and add that extra special touch.
Designing your aquarium
While you are of course free to design and set up your aquarium however you wish, there are two general styles to choose from: a more artistic look, or a natural look. The natural look strives to recreate the habitat of the aquatic creatures as closely as possible. If you choose this option, you will use light or dark gravel and real plants, plus wood and rocks to achieve the look you want.
Artistic aquarium designs are very colourful. Depending on your taste, you can use gravel in colours such as orange or blue. Artificial plants are usually used here, also in a variety of colours. You can also add striking sculptures, an underwater castle or a sunken pirate ship. You can even play with the lighting, adding LEDs with colour effects and contrasts. A suitable cabinet in a modern design is the perfect place to store your technical equipment. However, you need to make sure that your cabinet is sturdy, won't topple over and can bear the weight of the aquarium.
Naturally, the fish that will live in your aquarium play an important role in its design. You can populate your community aquarium with large or small fish, single-coloured or multi-coloured fish and keep them in groups, pairs or alone, depending on their social behaviour and requirements. The one thing you must not forget when setting up and decorating your aquarium is that this is a home for your fish, and their needs come first.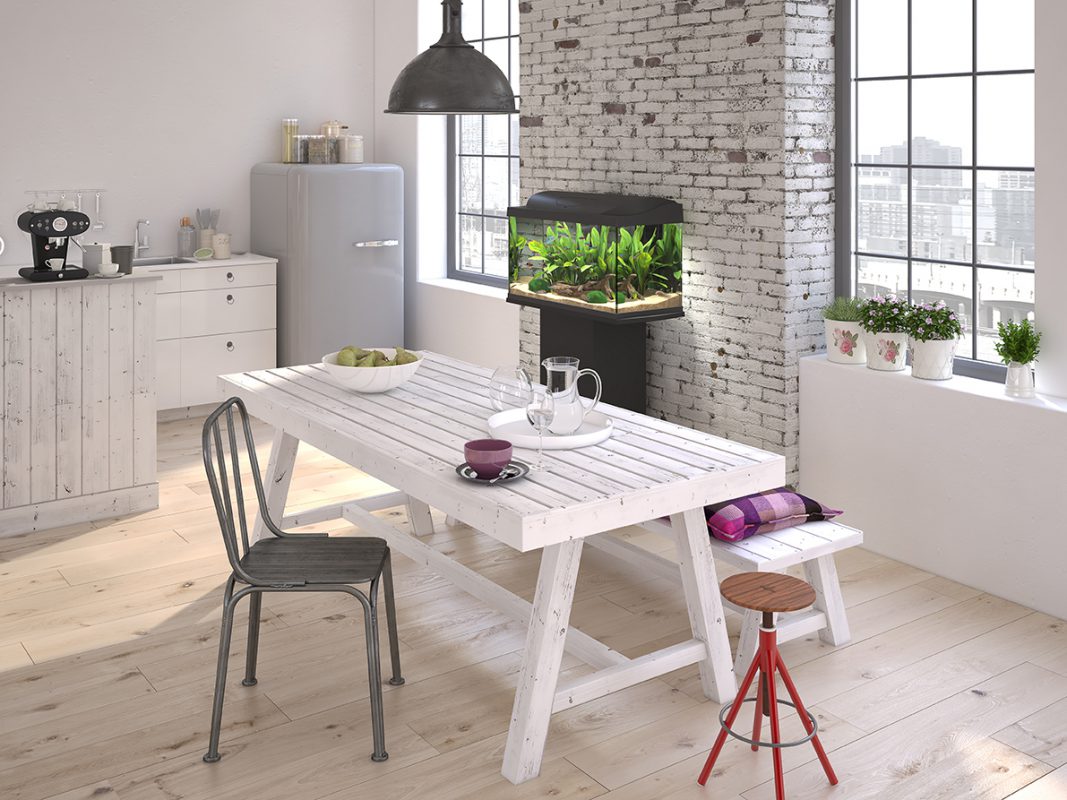 Finding the right spot for a modern aquarium
When incorporating an aquarium into your home, it is crucial to pick a location that will help it stand out. Depending on how much space you have and the size of your aquarium, you can let it stand freely, use it to divide up the room or integrate it into the walls and furniture. Aquariums come in round, square and rectangular designs and various litre sizes to help you make the best use of the space available and match your personal style.
Perhaps the most traditional variant is a square aquarium installed on a living room wall. With the right effects, such as an interesting rock formation or an underwater castle, even this classic choice can look great and add an eye-catching feature to your home. If you have a dedicated corner for reading or relaxing, a small aquarium can boost the calming effect and allow your thoughts to drift as you watch the creatures swim around.
Naturally, a free-standing aquarium will attract even more attention. You will then be able to look at it from all sides and enjoy an even better view of the fish and other creatures. Alternatively, you can use your aquarium to separate your living space. This can be an elegant way to divide an open living space into an eating area/kitchen and living room. This option is becoming increasingly popular in modern interior design.
Even if you don't want a free-standing aquarium or don't have enough space, there are many ways to make the aquarium part of the room. Built-in aquariums are a very stylish option: you can have your aquarium installed on a living room wall or book shelf or flush-mounted into the wall. This last option creates a modern and impressive look, particularly if the aquarium is visible from two rooms. With many different design options, aquariums are becoming an increasingly popular feature in modern interiors.