Pești care înoată, verdeață luxuriantă, libelule care zboară pe deasupra apei… Cine nu și-ar dori să aibă un iaz și să se bucure pe deplin de minunile naturii? Un iaz bine îngrijit reprezintă o priveliște deosebită, și un loc care va deveni preferatul tău.
Dacă îl îngrijești corect, iazul își va menține echilibrul biologic optim și va oferi peștilor un mediu confortabil. Cu toate acestea, măsurile și metodele de îngrijire pentru iazul tău diferă de la un sezon la altul. De exemplu, toamna, este important să-ți pregătești treptat iazul pentru iarnă și primăvara, pentru a-l păstra într-o formă bună, astfel încât să te poți bucura de el în următorul sezon cald. Află care sunt măsurile și metodele de îngrijire de care are nevoie iazul tău pe tot parcursul anului.
Îngrijirea iazului primăvara

După ce totul în jur a început să se dezghețe, florile au început să înflorească în lumina soarelui cald și peștii să se trezească din hibernare, datorită creșterii temperaturii apei, este timpul să "resuscitezi" aspectul iazului, cel căpătat peste iarnă.
De îndată ce peștii din iaz încep să se agite, ar trebui să începi să-i hrănești din nou. Dacă temperatura apei este în continuare sub 10°C, trebuie să le oferi un tip de hrană care să le favorizeze energia de care au nevoie, plus un mix de vitamine, nutrienți și oligoelemente importante pentru sănătate. Deoarece peștii tăi nu sunt tocmai în formă maximă după iarnă și, prin urmare, sunt mai vulnerabili la îmbolnăviri, este important să-i ajutăm să să fie mai viguroși și să-și crească rezervele de energie. Tetra Pond Wheatgerm Sticks sunt ideale în acest scop, deoarece sunt ușor de digerat pentru pești, chiar și la temperaturi scăzute. Odată ce temperatura apei va crește peste 10 ° C și se va menține constantă pe termen lung, poți trece la alimente normale, de cea mai bună calitate, cu un consum ridicat de energie.
Te rugăm să reții că nu ar trebui să începi "curățenia de primăvară" a iazului până când peștii nu au terminat de hibernat. Primul pas este să verifici marginile iazului pentru eventualele avarii suferite în timpul iernii și repararea acestora, dacă este necesar. Dacă peste iarnă ți-ai depozitat echipamentul tehnic într-o locație rezistentă la îngheț, acum este momentul să-l pui din nou în iaz și să îl verifici: pompele din bazin funcționează perfect și debitul filtrului este suficient?
Este important să reîncarci filtrul în bazin în timp util, astfel încât să poată deveni din nou activ din punct de vedere biologic și să poată colecta suficiente microorganisme pentru a ajuta la curățarea apei din iaz.
Green water is a common occurrence in spring, as this is the time of year when most algae problems crop up. Plant growth is not yet vigorous enough to counter any algae and compete with them for nutrients. This doesn't happen until later in the year. It's therefore crucial to ensure good water quality and clear water in spring. For this purpose, you should check the key water values, such as carbonate hardness, pH and nitrate levels, on a regular basis using the Tetra Pond Test 6in1. If an algae problem arises, you can combat it with algaecides or a UVC clarifier in the filter circuit. The latter eliminates floating algae, which turn the pond water green.
The main cause of algae growth is an excessive nutrient content in the water. This can arise, inter alia, due to an accumulation of sludge at the bottom of the pond during the winter months. If this is the case, you also need to remove this sludge-like deposit. Be very careful to avoid overstressing your active fish during the mulm-removal process. Other ways of reducing the nutrient content include carrying out partial water changes and making appropriate use of pond treatments. In late spring, you can also add some new plants or some water lilies, for example.
Îngrijirea iazului vara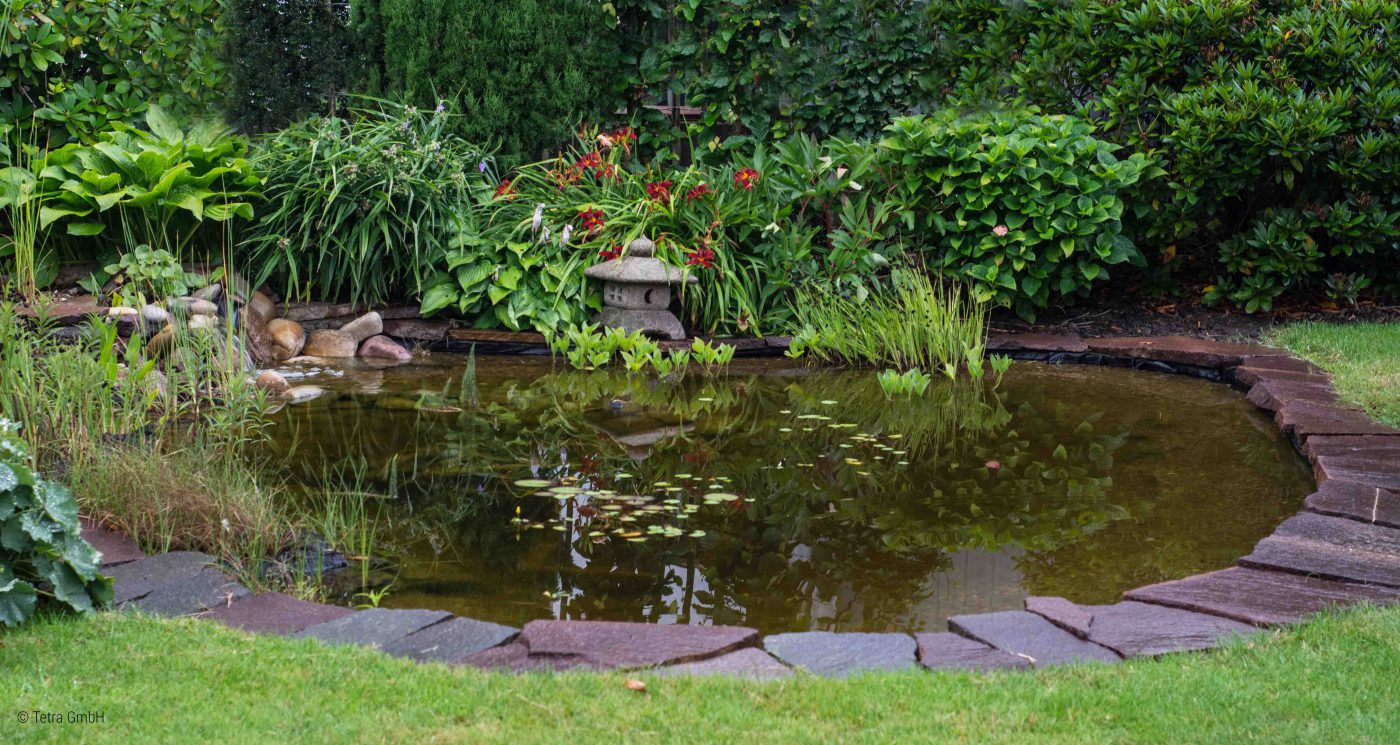 After all your hard work in spring, now it's time to enjoy the full splendour of your garden pond. Your plants have grown sufficiently in the meantime and are currently competing with algae for nutrients, thereby reducing or inhibiting algae growth. If, however, algae do proliferate, simply fish them out with a dip net or use a special anti-algae agent. If your plant growth is too dense, simply thin out your plants and remove any dead plant parts with a dip net from time to time.
Don't forget to check the water values at certain intervals and to keep an eye on the water temperature. In warm water, less oxygen can be dissolved so we recommend additionally aerating your pond to increase the oxygen level. You can do so by adding a water feature, for example. If the water level falls due to excessive evaporation, you will need to top up your pond. When doing so, you should always use a water conditioner to make the water safe for fish. Carrying out a partial water change is another good way of guaranteeing good water quality. What's more, you can use the extracted pond water to water your flowers, for example.
Îngrijirea iazului toamna
The days are drawing in and the temperatures are falling. Autumn is approaching, so now is the time to prepare your pond for the winter. It is crucial to clean and care for your pond in autumn to help your pond and fish make it through the winter in good shape.
In autumn, you should regularly remove any leaves fallen from trees as well as any plant remains and foliage from the water surface, otherwise they will sink to the bottom of your pond and gradually create an ever thicker layer of sediment. Covering your pond with a leaf net could be a great help here, particularly for smaller ponds. Cut your pond plants back and remove any weeds and dead plants.
Good water quality is crucial in order for your fish to remain healthy over winter. You should therefore remove any excess sludge and sediment from the bottom of your pond using a pond vacuum. Partial water changes are also essential in preparation for winter as they help to prevent poor water quality and keep the nutrient content in check, thereby preventing the risk of prolific algae growth in spring. You should therefore check the key water values on a regular basis in autumn.
In late autumn, before the first frosts, you should remove any external filters and pumps from the water. Once you have cleaned them properly, you can store them in a frost-free area over winter.
While it is still warm and your fish are still active, you should continue to feed them high-energy foods so that they can build up sufficient energy reserves for the winter. Once the water temperatures fall below 10°C, you should start feeding your fish Tetra Pond Wheatgerm Sticks to prevent them from having to live off their winter reserves before they hibernate and to shorten their non-feeding period.
Îngrijirea iazului iarna
The water in your pond can be broken down into layers, to some extent. In cold weather, fish remain in the bottom water layer as the water temperature is higher there than directly at the water surface.
If you use a pump or an aerator to keep your pond free from ice, you must make sure it is placed in a shallow area, otherwise it will recirculate all of the water. This would destroy the layering of the water which is crucial for your fish to survive. When placed in shallow areas, ice preventers just keep a small hole free from ice, but that's perfectly sufficient to enable a gas exchange.
If the rest of your pond freezes over and a thick layer of ice forms, leave it alone and don't hack into the ice. You should also avoid walking on your frozen pond as this causes a great deal of stress for your fish. Since your fish have very good hearing you could startle them during hibernation and make them want to flee. This could have fatal consequences, as they wouldn't be in a fit state to escape due to their slowed metabolism. That is why hibernation not only applies to your fish, but to your entire pond.
If your pond is not covered in ice due to a mild winter and your fish start to stir, continue feeding them Tetra Pond Wheatgerm Sticks.
These tips will help you get your fish safely through the winter until spring approaches and the pond care cycle starts all over again.